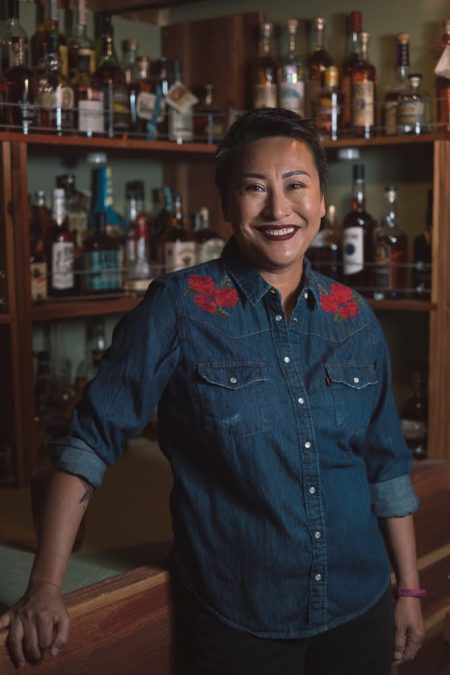 Certified Specialist of Spirits and Executive Bourbon Steward
Nashville, March 2008. I'm at my company's National Sales Conference (aka another "How much crappy free booze can you drink?" event) when a friend pulls me aside and offers me a taste of Woodford Reserve. It was my first introduction to quality bourbon and it was like the heavens opened up. We proceeded to drink the entire bottle and I realized I was in trouble.
It's now August 2008 and I'm at a hipster restaurant in the Lower East Side of Manhattan. I walk through the bar, which is full of men, and on the recommendation of a friend order "Oban 14. Neat." Around me I can feel jaws dropping.  A woman…ordering a single malt scotch neat?!? It was at this moment that I realized that if I wanted to hang with the boys, I better continue to decode the mystery of whisk(e)y.
And that's how my infatuation started…two distinct memories. From that point, I wanted to try as much whiskey as I could – Scotch, Bourbon, Rye. Smoky, carmel, spicy. I started stashing bottles in various cupboards of our kitchen and it wasn't until I had filled all the spare space that I realized I had developed a real passion (or problem) for buying and tasting this beverage.
Since then bourbon and all things whisk(e)y have exploded. The demand has exceeded anyone's expectations and more people want to know what the buzz is all about. For decades, men have been the typical consumers of whisk(e)y in their private clubs or board rooms. But more and more women want their spot at the bar to enjoy this spirit. For some, it can be an intimidating prospect, but that's where I come in….
I've traveled all over the world touring distilleries and wineries. Since starting my kitchen stockpile in 2008, I've grown my private collection to over 300 bottles. In 2015, I got my Certified Specialist of Spirits (CSS) designation from the Society of Wine Educators. In 2018, I got both my Bourbon Steward and Executive Bourbon Steward designations from the Stave and Thief Society. I have taught formal classes on whiskey education to groups and corporations, but I mostly enjoy educating women (and men) who simply want to learn more.
Whether it's in a classroom setting, through my Instagram posts, or via my blog, I hope to be your go-to resource for all things whiskey.
Cheers!
Niki Green

Want to learn more?